Colleges turn out truckers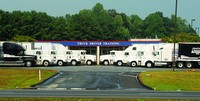 Caldwell County Community College & Technical Institute's truck driver educational and training program involves a heavy investment in equipment.
HUDSON, N.C. — Ask those in the industry about dealing with the shortage of truck drivers, and making the job a more attractive career option comes up a lot. Efforts at accomplishing this include industry and education partnerships along the lines of what's going on at North Carolina community colleges.

Elaine Lockhart is vice president of continuing education and workforce development at Caldwell Community College & Technical Institute in Hudson, N.C. She directs a truck driver training program that began there in 1990 and is spreading across the state's network of community colleges.
"We were the first in the state, because we have such a hub of activity here in the western Piedmont. We have 80% of the furniture manufacturers in the state in this region," she said. "We started with one truck and a few students, and since then we've acquired more than 80 pieces of equipment and graduated more than 200 drivers in the last 10 years."
To date, six other community colleges have signed on for the program, which fast-tracks students on the road to the Class A commercial driver's license required for tractor/trailers. Three others are preparing to do so, which will put the program in 10 out of 58 N.C. community colleges.
"The total program is very expensive in terms of equipment, maintenance on the equipment and insurance. We are the only community college in North Carolina to be (Professional Truck Drivers Institute) certified. It allows us to be a certified tester," Lockhart said. "Because it's so high-cost, and is very labor-intensive with the instructors, we've established regional partnerships with other community colleges in North Carolina."
The program teaches students to haul various goods, not just how to operate the basic equipment: "There are a lot of different types of equipment, for example for refrigerated cargo, that students have to learn how to use," Lockhart said.
What are elements of the program that attract potential new truck drivers?
"One, it's the wages. (Average pay for U.S. truck drivers was $40,490 in 2013, according to federal statistics.) Another is that, especially in the last two years, we've had … companies that hired the drivers right out of school (which wasn't true in the past)," Lockhart said. "We've worked with the industry so closely that they trust the program."
Most graduates have jobs waiting the day they graduate, and Lockhart said those who don't are still choosing among options.
Another draw is the fact that the course isn't a long-term commitment. Full-time students can graduate in eight and a half weeks, part-timers in 15 weeks. The average graduate is 30 to 35 years old, well below the industry average of around 54, but old enough for age to not be a concern for potential employers, who don't want to put people under 25 behind the wheel of a big rig.
All schools participating in the program have an advisory committee made up from the local trucking industry, which helps develop the curriculum.
"In terms of staying current, we also have a company working with us on emerging technology like electronic logs," Lockhart said. "We try to have those on at least some of our equipment. We bring in the industry to train on those specific things.
"We invite employers in to interview students and to be part of the classes. We're also involved in meetings of local, regional and state trucking associations." (Lockhart will be a presenter at the June 2 meeting of the Specialized Furniture Carriers Assn. in Charlotte, N.C.)
"This program is employer-driven," she said. "What the employers want, we provide. Most of our instructors are retired from the trucking industry."